Our Veterinarians
Pusch Ridge Pet Clinic has a skilled team of veterinarians who welcome you to our practice. Proudly serving the Oro Valley. At Pusch Ridge Pet Clinic, it is our daily privilege to provide quality vet care to your cherished pet, with compassion and competence. We hope to ensure a positive impact on our patients, pet owners and the local community.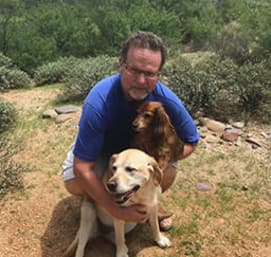 Dr. Tim Halstead, DVM
Originally from Michigan, Dr. Tim Halstead earned his DVM degree from Michigan State University in 1990. With the best interests of his patients in mind, he achieved certification in Acupuncture in 2007 and Chiropractic in 2010. Dr. Tim's integrative approach combines conventional and alternative veterinary medicine to achieve the best outcome for his patients.
Dr. Tim has two adult children — both on their way to becoming Chiropractors! He shares his home with his wife, Sheila, also a veterinarian and their three dogs, "Daphne," "Darby" and "Banjo." Outside of work he enjoys golf, backpacking and harness horse racing.
Dr. Steven Poage, DVM
Dr. Steven Poage graduated from Kansas State University with a DVM in 1978. With an interest in internal medicine. He previously owned a practice in NW Tucson from 1981-2012. He joined Pusch Ridge Pet Clinic in November 2012, working part-time.
Dr. Poage has an interest in golfing and tennis. He has 4 children, and 3 grandchildren with another one on the way. He has an elderly Chihuahua named "Mabel."
Dr. Annette Brunner
Dr. Annette Brunner is a Tucson native who received her bachelor of science degree from the University of Arizona, and earned her DVM degree in 1995 from Colorado State University. She spent the first 8 years of her career practicing in Prescott, AZ as an associate veterinarian. In 2003 she and her husband moved back to Tucson to be closer to family, and she has been practicing as both an associate and relief veterinarian here in Tucson since then. Dr. Brunner also has a special interest in feline medicine. In her spare time, Dr. Brunner enjoys hiking, fishing, reading, and travel. She and her husband share their household with a sweet kitty named Dudley.